Newsletter
April / May 2012
PREMIER TIP
Room to Roam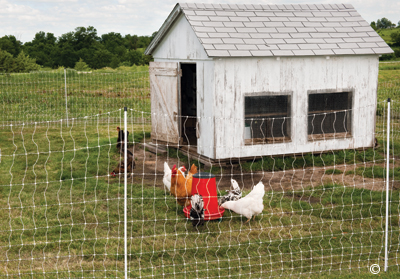 Our poultry customers often ask, "How many square feet of space do I need for my chickens?"
The answer depends on several factors including size of birds and whether they are free-range or confined or a bit of both. Our chickens (about 50) enjoy being outside during the pleasant days of spring, summer and fall, but when the weather is chilly, windy or wet, they tend to stay inside by choice. On those days they need additional space inside even though we consider them to be free-range.
Following are standard guidelines for space. It's fine to add more space for your birds if you have it available. For each free-range bird:
Heavy breeds-4 sq ft. If birds are to be butchered before 16 weeks of age, 2 sq feet will work.
Light breeds-3 sq ft.
Bantams-2 sq ft.
For each bird in confined housing:
Heavy breeds-10 sq ft.
Light breeds-7.5 sq ft.
Bantams-5 sq ft.
Other interesting bird facts: Incubation time:
Chickens-21 days.
Ducks-28 days.
Geese-28 to 32 days
Pheasants-24 to 28 days
Turkeys-28 days
Life expectancy is:
Chickens-5 to 9 years.
Ducks-6 to 8 years.
Geese-10 to 20 yearss
Quail-1 to 2 years.