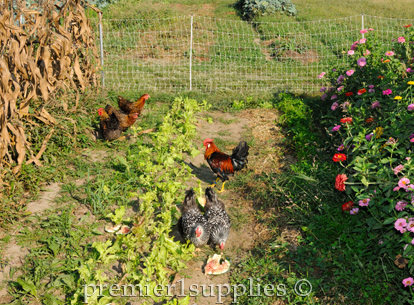 Our chickens welcome the opportunity to provide end-of-summer garden cleanup. Chickens are fenced in with PoultryNet™ Plus 12/48/3.
Putting chickens to work
in the garden
The weather is cooler and the days are shorter, which means the growing season is drawing to a close. So with the garden's produce either consumed or saved for later (via canning or other preservation methods), what should be done with the garden's remnants? It's an ideal time to let the chickens into the garden for cleanup duty.
During this growing season, we made an effort to keep the chickens out of Premier's garden. The energetic cluckers have a nasty habit of relocating carefully placed mulch and finding their way to the almost-ready tomatoes. Instead of allowing the garden to be continually henpecked, we fenced the birds out of the garden.
Now our garden is more or less finished for the season, so our birds can spend their days foraging through remnants of the various veggies we grew this summer and finding a few bugs at the same time.
See VIP article in this newsletter by Harvey Ussery of The Modern Homestead, where he shares his wisdom about using chickens to help composting in the garden.
Want some tips on how to "Save the surplus—from your garden"?
Read our latest Garden Newsletter.